Workers Best - tested quality at a fair price
Trust is good, control is better. Under this motto, Workers Best products are put through their paces by TÜV Austria as an independent technical testing centre. Only products that pass these tests are allowed on the shelves as Workers Best products. And all at a fair price because Workers Best products don't cost that much.

In addition to electric hand tools and accessories, the range also includes hand tools, storage products, assortment boxes and other useful products for home and garden.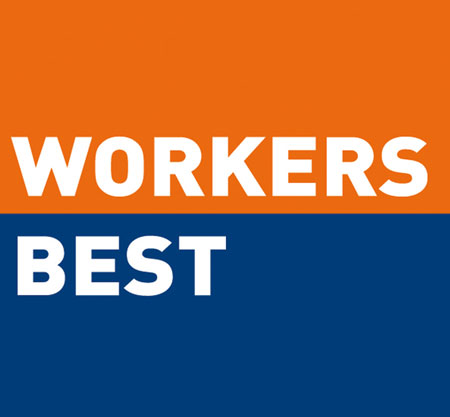 Hand Tools

From A for aluminium spirit level to B for bit box to Z for pliers set, there is an extensive range of products in the hand tools section with more than 150 products.
Power Tools

Whether hand-held machines such as angle grinders or stationary machines such as double grinders, you will also find an extensive range of products in the Power Tools sector.
Cordless Power Family

The motto of the new Workers Best Cordless Power Family is "One battery for many applications in the home and garden". Suitable for the 2.0 Ah or 4.0 Ah battery, there are various machines such as angle grinders, jigsaws, hand-held circular saws, drill screwdrivers, hedge trimmers, etc. where you simply have to plug in the battery and go on - without any cables.
Accessories

What good is an angle grinder without cutting discs or a compressor without air tools? For these and many other applications, there are suitable accessories and consumables from Workers Best.
Storage

Tidiness is half the battle and looking for something is usually just a waste of time. So that you have more time for useful things and everything is well stowed away, there are also tool and assortment cases from Workers Best.
Useful helpers

It's often the little things in life that count. That's why Workers Best has useful helpers such as luggage tighteners and assortment boxes for a wide range of applications.