Using personal potential for advancement
Many employees have already had the opportunity to take over other areas of responsibility thus to advance their occupational careers through their qualified work at 3e.

Read some examples of the wide variety of opportunities for advancement:
Department Manager Company Controlling
"I started in 2002 as an Assistant in 3e's Controlling Department. New challenges and personal and occupational further development are very important to me. Thanks to my commitment to further training, I was able to take over the management of the department in 2007."
Elke Rebekka Welli
Department Manager Company Controlling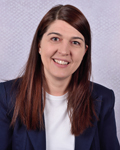 Purchasing Manager
"I started in 2008 in 3e as a product manager in category management. After gaining professional experience in various purchasing departments, I started my bachelor's degree in business administration in 2015 while working. After successfully completing my studies in 2018, I was given the opportunity to take over the import department as purchasing manager. For me personally, this was a great opportunity, as the 3e trusts me and my commitment over the past years has paid off."
Christian Winkler
Purchasing Manager AHS Austria Hartwaren Service und Marketing GmbH